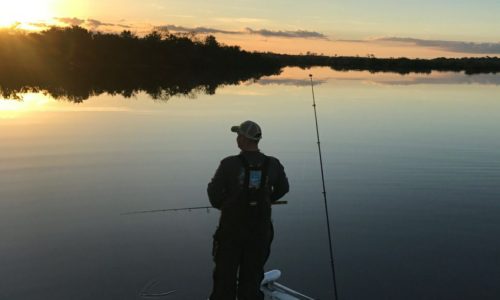 Looking for an Inshore fishing Guide or Charter Boat near Daytona Beach, for redfish, trout, snook and more. Wanting to have a great day of saltwater or freshwater fishing in Daytona Beach, Ormond Beach, Port Orange, Ponce Inlet, and surrounding areas? Look no further than Capt. Billy Pettigrew.
He's a native to these waters, and a tournament fisherman, who knows the local waters and its fish like few others. There are a wide variety of species to choose from; redfish, sea trout, snook, flounder, tarpon, black drum or other species you're looking for! Capt. Billy will put you on the fish. 
Daytona Beach Fishing Guide and Charters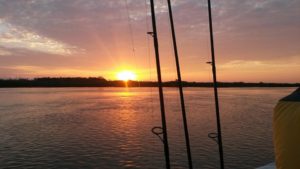 The waters surrounding the Daytona Beach area are diverse. To the south lies the north end of the Mosquito Lagoon, which is known as one of the premier redfish fishing destinations in the world. To the north is Ormond Beach, and the Tomoka River. With the Halifax River and the Ponce Inlet in between, the opportunities for exceptional saltwater fishing are endless. You'll fish for redfish, speckled sea trout, flounder, tarpon, snook, blue fish, snapper, jack crevalle and more. With this type of diversity something's sure to be biting!
All trips are customized to the skill level of the customer, so whether you're a hardcore angler looking for an intense day of fishing, or a novice looking for a relaxing day on the water, Capt. Billy is dedicated to making your day on the water memorable.
If fishing isn't your thing, how about a day cruise around Daytona and surrounding waters? Picnic on the shores of one of the many islands in the area, or just cruise around viewing the abundant wildlife, including manatees, porpoises, pelicans, alligators, and the many wading birds that call Volusia County home.
Duck Hunting in and around Daytona Beach, or Central Florida has some wide variety species of duck include Scuap (bluebill), Blue and Green Winded Teal, Ringnecks, Mottled Ducks, Hooded Mergansers and Common Mergansers. Capt. Billy and his hunting experts will find the ducks.
Please check out our "Trip Details" page for more details on the many opportunities available on waters surrounding Daytona Beach.
Reservations & Gift Certificates
For your convenience we have an online reservation system which allows you to check availability, reserve your date, and pay your deposit. We also offer gift certificates that can be purchased online and delivered to your email address on the same day as your purchase. Please check the "Reservations" and "Gift Certificates" portion of this web site for more details. I also provide a Military, Law Enforcement and Fire Fighter/E.M.T. Discount. (Active or Retired)
With January coming to an end, the cool water temps set in, it is now for the main event in the Daytona Beach. Fishing is heating up with schools of redfish working the flats and Sheephead piled up on rocks, docks and bridges. You couldn't think it could get better as a Fishing Guide or Charter Captain in the Daytona Beach area…… but you would be wrong with Specks moving and feeding to the bass starting to push to bed. February is a great time to fish in both fresh and saltwater in the Daytona Beach area. From Ormond to…
Read More